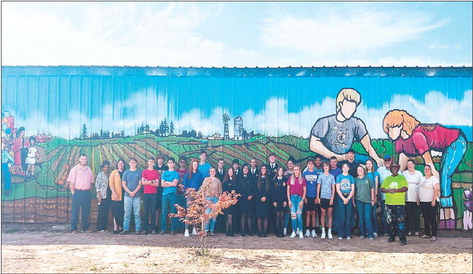 New mural at Hooks tells the story of Ag life dreams and remembers the past
The story of Future Farmers of America past and present is now told through a mural.
The mural tells the story of a young girl "Annie" and her journey through raising her beloved calf on her family farm to winning first prize at the county fair.
This visual story is displayed along the side of the Hooks High School FFA barn facing Interstate 30. It was completed by locally famed muralist Darlene Taylor and sponsored by Farmers Bank and Trust.
The mural is a combination of five different pieces of artwork that Taylor seamlessly melded together. And in pure Taylor fashion, she has sprinkled in a few hidden gems that both incorporate the history of Hooks and are personal to her.
"Of course we have the Hooks silo … The silo and the farm used to be right here. And this is where they set up for their shows, like it was in the past," Taylor said of the farming and cattle show sections of the mural.
"He's usually always a little Andy. He's always hiding, walking or in a tree or something doing stuff."
All the faceless people depicted in the painting are actually people who are people she has met throughout her life, includ-ing a faceless Hal Harris. Harris is the director of college and technical education and agriculture teacher at Hooks High School.
Even the name Taylor gave to the little girl is something that is personal to her because her pseudonym during her pinup days was "Annie," a name she somehow incorporates into many of her paintings. But she said the FFA students will have to decide a name for the cow.
And of course a mural by Taylor wouldn't be complete without a tribute to her late husband Andy "I always hide an Andy. So, here's our Andy in his red shirt and black pants that he always wore. Whenever we had to go somewhere that's what he wore. So he's a scarecrow," Taylor said.
She said putting her hidden Andy in a larger, more visible form is something new for her.
Painting the side of the building in the summer heat presented a challenge to Taylor.
Most of Taylor's work is displayed on a brick wall, but the siding of the barn is corrugated metal.
"Because it's on corrugated metal, you cannot do fine details which is what I wanted to do on it because I wanted it to look older. But it was so hot that the paint dried instantly so I couldn't mix colors. And secondly, it was so distorted from different angles that you couldn't tell what anything was," Taylor said.
While it wasn't the first time she has done an image on this type of canvas, she said it was the first time she has hand painted images instead of spray paint alone.
The mural is the second collaboration of Taylor and Harris. The first was when Hal reached out to have Taylor paint beehives for the Longview FFA. He said choosing Taylor to do this job was a no-brainer.
"The school was all in favor of it. And everyone in our administration and the public has loved it. It's been all over Facebook. You can hear the people honking as they're driving by," Harris said. "It looks neat. It just says a lot about the school and how innovative Hooks is and how progressive we are."
Taylor said she hopes her next collaboration with Hooks Independent School District will be to paint a mural inside the school.