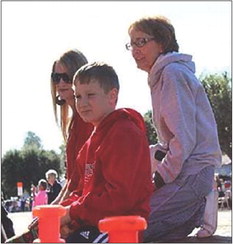 The preservation of history and recognizing its people was a life work for Joni Tidwell Haldeman
"One cannot put into simple words all that embodies Joni Haldeman. She is larger than life."
That quote, from her daughter-in-law Amanda, is a statement that couldnt be more true.
Joni was born in Texarkana, but spent her life in the town she held so dear, DeKalb, Texas.
The daughter of Tank and Sucky Tidwell, Joni achieved much and impacted the lives of many. None more than her family. Whether it be her husband Charles, her siblings, John and Jane, her son Charlie, her grandchildren, cousins, or any other of her kinfolk, she was fiercely devoted to them and she called them her crowning achievement.
A graduate of De Kalb High, Joni went on to earn a degree in secondary education from what was then known as East Texas State, and now Texas A&M-Texarkana. Always having a love for the social sciences, she was certified to teach history, government, economics, sociology and geography.
Aside from her years in teaching, the betterment of De Kalb and the preservation of its history was always a passion for Joni, and nothing declared that more than the Williams House Museum.
She said, "Other than my family, I am most proud of the Williams House. It was a dream shared that became a vision. Once you have the vision, nothing is impossible."
With its inauguration years ago, the Williams House became home to thousands of relics from De Kalb's past and it is continually growing. The vision of Joni, Caroline McCrary, Linda Shumake and Dwight Wood, Jr. is now known around the world, and as she says, "It is now so much more than we ever envisioned. But as the complex grows, so does the vision."
Another facet of her hometown history that Joni held dear are the Noble Hearts. These Heart of the Community Award recipients are pillars of the community that have dedicated their life to the betterment of DeKalb.
The Noble Heart Award was the vision of the same people that saw the need for the Williams House. In fact, it was while the group was working in the early days of the museum that they got to hearing stories about differ-ent people around town that most would never know of their importance to the community.
The group talked about the need to recognize these people, who were now retired and not as active, but had contributed so much, and the award was born. It is now presented each year at the annual Chamber of Commerce banquet, with the recipient selected solely by former honorees. It is named aptly for the first recipient, Noble Bates, who is known for doing so much to better De Kalb during his many years as a local businessman, and as the mayor.
Another stone in the footpath of Joni's proudest achievements has to be Oktoberfest. The annual festival spread over two days is the result of a whole host of people who give of their time and talents, and even their own money, all throughout the year.
It continues to grow each year with all the profits raised from the event given directly back to the community through organizations that serve the west end of Bowie County.
Lastly, in her list of achievements, Joni noted her tenure as the De Kalb Municipal Court Judge.
She said, "It is a tremendous obligation when you hold someone's liberty in your hands. You constantly pray that your decision will be the right one under the law. I could not do this job without the assistance of Court Clerk Paula Booth. She takes her job seriously and she knows the law. Also, the help of City Administration and the support of the city leaders is invaluable."
Joni held her position as judge in the highest regard and she was very proud of holding the title.
As in everything else, Joni gave credit to others for making her who she was,"I do believe that no man is an island. We do not become who we are because of what we do, but for what other's do for us, and with us. I am very thankful for the love and support my family has given me in all of my endeavors."
The list of those who she referred to was endless. From family to lifelong friends, Joni had many who will proudly herald her work and achievements.
DeKalb City Councilman David Meadows said of her, "Joni Haldeman possesses the qualities that we all should strive for, love of God, family, friends, country and community. She is always looking for ways to her community, with a fierce dedication surpassed by none."
Her husband Charles states, "Nobody loves DeKalb more than Joni. The good, bad and the ugly, she loves DeKalb. She is in a class by herself." Her grandson Will Haldeman said of his grandmother, "She's a good woman."
Summing up the life of Joni Haldeman is a difficult task, but daughter-inlaw Amanda got as close as anyone when she stated upon Joni being named the Tribune person of the Year in 2017, "Her passions run deep. Her compassion is strong. And the fight for what's right is what she stands for. She makes no excuses for the love she holds for family and friends: those here and those who have gone on before her. These qualities are what I admire most about my mother-in-law, Joni."
All of these things are the reason for our initiative to preserve Bowie County history. She would want nothing less of us.
Joni Haldeman was obviously many things to many people. A teacher, a mentor, a historian and a judge, but to so many, especially me, she was a grand story teller. I sat in her office many days just to listen to the stories of the history and people of Bowie County.
It is my hope that this initiative, named for her, will continue those stories and that the history of Bowie County that was so important to her, becomes imprtant to all of us that still live to tell them. As they live on, so does she.