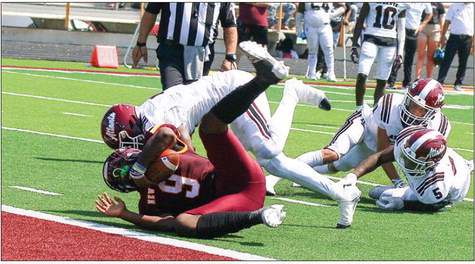 Lions tackle Rabbits after weather delays game play
The New Boston Lions chalked up their second consecutive win this time over the Atlanta Rabbits. Due to a weather delay, the game was called early in the first half with the Lions leading 7-0. The game would resume play Saturday at 1:00 PM when the Lions would continue with the previously found momentum.
Quarterback Xavier Rowden completed three of five passes for 24 yards and a touchdown and rushed five times for 11 yards and a pair of touchdowns. Ashton Rowden had 24 rushing attempts for 111 yards and a touchdown. Jomar Smith had three carries for 23 yards and the freshly committed Henderson State University Baseball Ball recruit Connor Bobbitt, had three carries for 21 yards. Bobbitt also threw one pass for a 13 yard completion. Xavier Rowden and Bobbitt each had a reception, along with Will Erwin.
Erwin led the Lion Defense with 10 tackles, four for a loss and a sack. Dontae Thomspon followed with eight tackles, three for a loss and a forced fumble. Newt Taylor also put up eight tackles for the Lions. Shawn Veals had three tackles, two for a loss and forced and recovered a fumble.
The Lions take the field next against the 3A- Division 1 #7 ranked Winnsboro Raiders in Lion Stadium at 7:30 PM this friday.