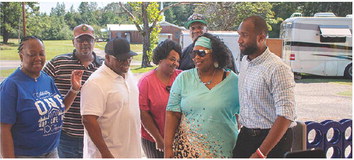 Mt. Zion Church celebrates 100 years of worship
The Mt. Zion Church was organized in 1923 under the leadership of Rev. M.P. Shephard with a small congregation but faithful band of worshipers giving God the glory and praise under a tent on Deacon Ike Moore's place. During the winter months service were held in a little log cabin on Deacon Tom Holloway's property.
In June of 1924, Pastor Shephard ran an eight (8) days Revival and the theme was "Fighting against sin" twenty (20) souls were won to the kingdom of GOD and baptized. We can only imagine they came from near and far, from all walks of life.
The first church building was built in 1925 with trees donated by Deacon William Wyse and 1(one) acre of land donated by H.W. McCouren.
In 1926 , The Association was held at Mt. Zion and meals prepared. Rev. Shephard resigned in 1936 for a full time Church in Oklahoma City. And for almost four (4) years different preachers filled the vacancy.
In 1940 , Rev. B. T. Mitchell was elected as Pastor.
In 1942, another building was built to worship in under Rev. Mitchell's leadership. Rev. Mitchell pastored until 1948.
Rev. M.S. Simon assumed the role as Pastor and served until 1955, then Rev. P.S. Jackson came to us and under his leadership school property ( the STUCCO BUILDING) was purchased by the church.
In 1957 , Rev. Black was elected as Pastor.
Next Rev. Dudley was called as Pastor and pastored for eleven (11 months.)
In 1960 , Rev. O.L. Threadgill was elected as Pastor, at which time the members saw fit to demolish the old building and rebuild a new church.. Rev. Threadgill pastored until his death in 1979.
In 1961 , Deacon Monroe Fields requested the Church History be recorded and read yearly. Thank God for Deacon Fields vision to preserve the ideas and dreams of those who labored so long enduring many hardships while working for the Lord's vineyard.
December, 1979 , Rev. N. J. Jackson was called to Pastor, under his leadership Rev. Anoise (Sonny) Smith was ordained into the ministry, October 1985. Rev. Jackson was faithful in his duties and resigned from pastoring in 1993 due to health reasons. Rev. Jackson loved the choir, community and always had encouraging words for the youth.
August, 1994, Rev. Joe Liggins was called as Pastor. Under his administration the church we still worship in today was built in 1995. Rev. Liggins resigned December, 1996.
During the absence of a Pastor three (3) souls were added to the roll and baptized April, 1997 by Visiting Minister Rev. James Benton, Jr.
Next, Rev. D.A. (Don) Hill was elected as Pastor May, 1997, and under his leadership four souls (4) and one(1) Deacon united with the Church. Rev. Hill resigned October, 1998.
May, 1999 Rev. Kenneth D. Hill was called to Pastor and under his leadership the Church went from Two Sunday's to Four. Four ministries were established: N. J. Jackson Scholarship Fund, Women's Missionary Society, Male Chorus and Food Outreach Ministry.
June 15, 2008: Two (2) Deacon were appointed and ordained.
"Twenty Nine (29) souls united with the Church during Rev. Hill's tenure at the church. Rev. Hill resigned December 9, 2012.
During the period of vacancy, Minister Willie Hunter served as Interim Pastor for about two (2) months.
Rev. Charles Murphy came to us with a willing heart to serve March, 2013 and was installed as Pastor June 10, 2013. Eight (8) members added to the church and four (4) joined the Usher Board. Pastor Murphy served until his death on March 4, 2019. The Lord blessed him to be the shepherd of the church he was baptized and grew up in although short-lived for almost 6 years.
We also give thanks and recognition to Sis. Scottye Smith who served as Evangelist under the leadership of Rev. Murphy. Our present Pastor, Rev. Ricky Dorsey was elected on August 25, 2019 and Installation Service was December 8, 2019, keynote speaker was Rev. Cory Woods, Pastor of Shady Grove Baptist Church, Cason, Texas.
Pastor Dorsey continues to teach and preach the word and we are grateful for him and First Lady Debra Dorsey. We are blessed beyond measure to continue the legacy of those who began 100 years ago. We salute those who have continued the journey up to this present time."